Bondage doesn't have to be extreme to be effective.  Sometimes just a short length of rope and some cable ties will get the job done.
Emma is a dirty cunt.  You only have to look at her to know what sort of girl she is.  She just makes you want to hurt her, to use and abuse her.  So you keep it simple.  Rope around her wrists, attaching her to the ceiling, pulling her up onto her toes, leaving her vulnerable.  Cable ties encircling those ample tits.  The plastic cutting in, torture in themselves.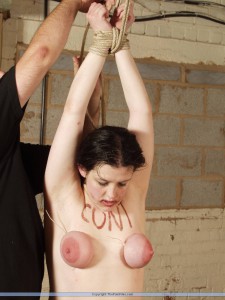 Now you've got her where you want her, make sure she's labelled up as the cunt she is.  She's yours to do with as you wish.  You can overload her with pain, or with pleasure.  Slap those swollen tits, pinch her erect nipples, rub her clit, fuck her with a dildo.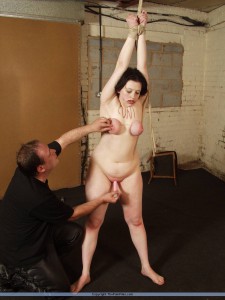 Either way, it doesn't matter, whether it's pain or pleasure, she's going to be overwhelmed by the time you've finished with her.  After one orgasm, or two, or three forced out of her, that vibrator she was begging for moments ago becomes a torture she can barely tolerate now.  Eventually she'll have to give in to you.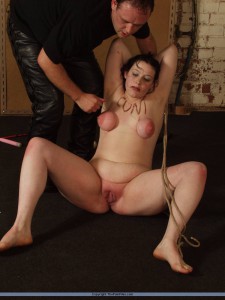 Her legs give way and you lower her to the floor, but that's not the end…… You've got much more planned for this cunt.
More of Emma's torments at ThePainFiles