Gina is an extreme masochist – she loves pain and just can't get enough of it.  This makes her Master's job more difficult, he can't use a beating as punishment, because the slut will just enjoy it and get off on it.  He has to think slightly differently when it comes to disciplining this big boobed MILF.
This dominant is imaginative though, and thinks he's got the ideal situation for the mouthy brat.  He takes her outside to the local forest, and the first thing he does, is put the head harness gag on her, to shut her up for once.  Then after carefully binding her between two trees, he starts to cover her body in painful clothes pins.  First her big, tanned breasts, then her shaved pussy.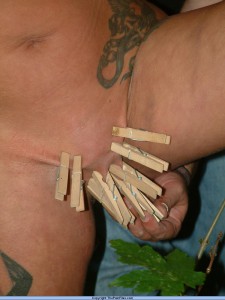 But her punishment doesn't end there.  This is just the preparation, the real punishment comes now – leaving her alone in the woods.  As the sun goes down, all sorts of bugs come out and bite her tender skin, and she doesn't know who might come past at any moment.  She can eroticise the pain and the bondage, but not the humiliation of being caught, tied out and exposed, by a stranger.  This is her punishment.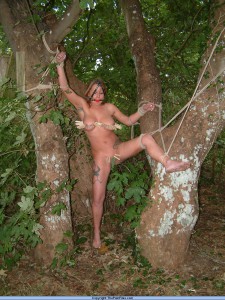 See other girls subjected to outdoor torture at The PainFiles
Some types of play take more trust than other types of play, not only from the submissive, but from their Dominant as well.  You can see this sort of play in this photo set with Miss Chaos.
Outdoors in the countryside, the blonde slave has to trust her Master as he places needles through her lips.  She needs to know that He isn't going to damage her as she submits to this humiliating and dehmanising treatment.  Disfiguring someones face is a powerful show of the control you have over them – that you can take even their most prominant feature, the facade that they show the world and change it to your own will, making them as beautiful or as ugly as you choose.
But when you are working in an area as intimate as the face, the Dom has to trust the submissive.  He has to trust that she wont move and cause injury to herself.  This is really an intense test of if his training is working, if she is able to hold the mental bondage he places her in as well as she would hold in physical bondage, even once she is unable to communicate or see because of the needles piercing her lips and eyebrows.
You can see more of Miss Chaos' ongoing training at ThePainFiles
Some times all that's needed for bdsm is an outdoor location and some simple bondage.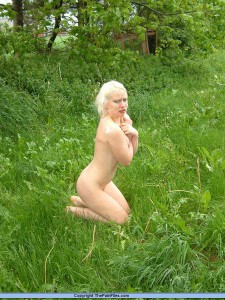 Little Miss Chaos discovers that just being left alone, outdoors in the cold and the rain can be a punishment in itself.  It's hard to be exposed and vulnerable to the elements.  And all those bugs that come out when the ground is wet are definately not pleasant.
Additionally, cold and wet skin is a lot more sensitive than normal, so any torments she recieves now will be intensified.  Her Master knows this and so grabs a stick he finds nearby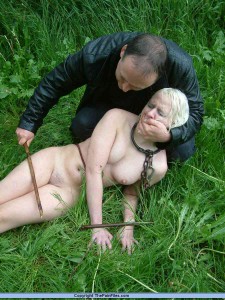 By time he is finished with her, she is shivering, her hair soaking wet and red welts raising on her skin.  you can see more of Little Miss Chaos, and other slaves in outdoor torture on ThePainfiles