In BDSM, there's not always a need for whips and clamps, hot wax and needle play.  Sometimes pleasure itself can become torture.  When a submissive is overpowered and bound, the knowledge that her own orgasms can be used as a weapon against her is a powerful emotion.  Being helpless to stop the wave after wave of orgasms being forced upon her.
Sophia Sandobar is a porn star.  I'm sure you know the type, bleached blonde hair, fake tanned, fake nails.  Not the sort of girl you'd expect to find me blogging about, really.  But this sexy MILF got herself all tied up and forced to orgasm over and over again, and that is worth talking about!
To begin with, our porn star gets securely bound to a bench.  Partially suspended, her huge tits firmly tied, her legs are tied wide open.  This means that there is easy access for the next part of her fun.  A powerful fucking machine is wheeled in behind her and there's nothing she can do about it.  She is forced to take the fucking of a lifetime, as the machine pounds her relentlessly, harder and faster than any man would ever be able to do.  As the orgasms start to build, it's a good thing that she is gagged, or her screams would alert the neighbours!
More sexy babes machine fucked at CumBots
Sometimes bdsm is all about whips and chains and pain and intense psychological experiences.  But sometimes you want to go back to something simple.  Soemtimes you just want to bind some big tits and make a girl orgasm.
So you tie her up, legs spread, opening her up wide, and set to work with fingers and vibrators.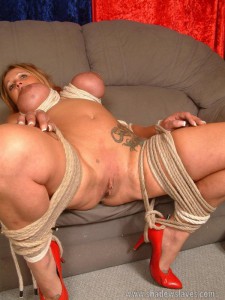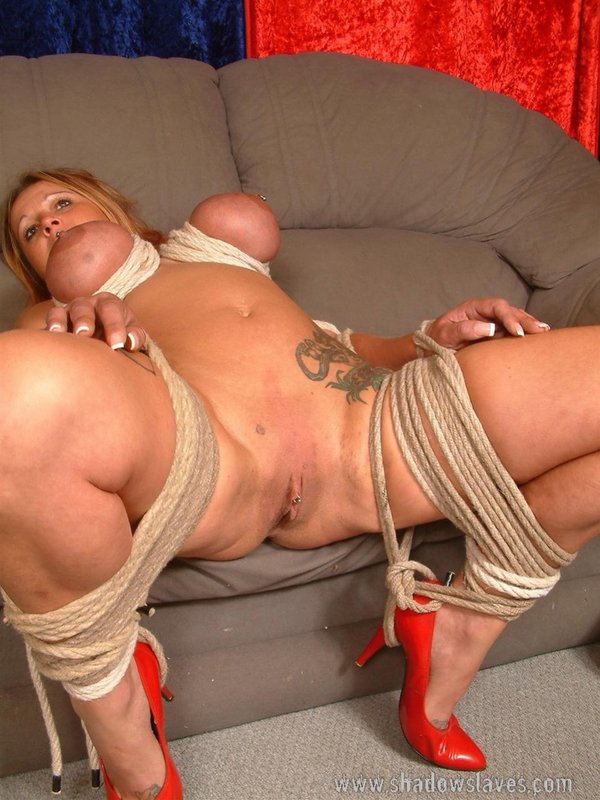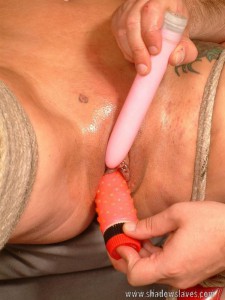 Big boobed MILF, Gina discovered that sometimes, orgasm can be a torture in itself.  She fights, but her body betrays her time and again.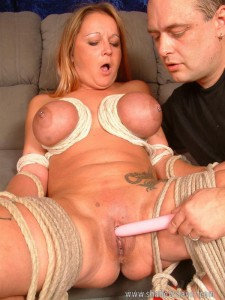 See more of this sexy slave bound and made to cum over and over again here!! Or to see her in harder bdsm, check out Shadowslaves!
A lot of bdsm scenes last an hour or so.  But sometimes, this reallly isn't long enough to do everything you want to do, not enough time to take the slave right to breaking point and pull her back.  Not enough time to take her to the edge of her limits, ease off and then push her that little bit harder the next time, eventually taking her well beyind where she ever thought she would be capable of going.
Charlotte Vale is tied up and helpless at the hands of Damon Pearce and Sister Dee.  The bondage in iteself is strenuous enough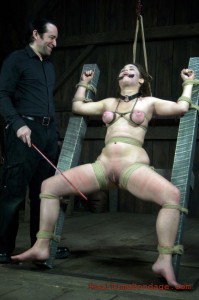 Add to that the cane on her exposed inner thighs and she's going to start struggling.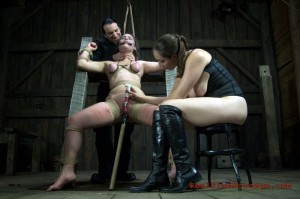 Add a vibrator and a big dildo in her cunt and she's gonna go over the edge.
But for Charlotte, this is the end.  This is the finale of hours of torture at the hands of the Real Time Bondage Tops and members.  She's been pushed in so many ways, in so many different directions.  She's been entirely helpless to stop the flow of tortures coming at her from all angles.
This sort of experience is at the extremes of what a slave can deal with.  To endure for this length of time, to suffer for so many unseen faces takes strength.  Physical strength and mental.