When setting a bdsm scene, clothing can make a very big impact on the minds of the participants.  For the Mistress, she should chose clothing which makes her feel powerful and sexy, the slave should choose (or have chosen for her) clothing which emphasises her position, which makes her feel more vulnerable.
Usually a slave will end up naked by the end of play, but sometimes it is even more powerful to keep her semi-clothed.  Total nudity, apart from collar and cuffs can be very visually pleasing, and removes anything that the submissive can hide behind, but keeping some of her clothes on, just pushing them to one side, shoving them out of the way can also send a very powerful message.
This message is made even clearer when the Mistress keeps her clothing on and neatly arranged.  As you can see in the above photos, this gorgeous asian Domme is immaculately clothed, reinforcing the blonde submissive's humiliation as she has her dress just pushed up to expose her ass for the painful flogging she is due.
More Mistresses using and abusing their slaves at Hell Of BDSM
A lot of BDSM scenes on the web put you purely in the position of voyuer, allowing you to view the D/s connection between the players, but they rarely invite you in.  You rarely get any form of eye contact with the slave, and she definately doens't perform for you.  One of the reasons for this is that a lot of dominants, in real life as well as on camera are very possessive of their submissive.  They want to keep her to themselves rather than turning her into a slut for anyone.
That's why this scene with Sharon Lee is extra hot.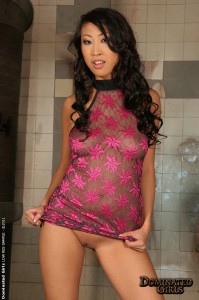 She starts out looking directly at us in a sexy little dress.  But it's not long before she's showing us what's under that barely there dress, spreading her legs and showing us her most intimate parts.
That's not what Master Mugur had planed for this exotic submissive today though.  He starts out by binding her and forcing her to suck his hard cock.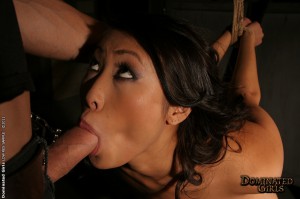 With her arms tied behind her and his hand in her hair, she has no choice but to do as he wishes.  When he decides he wants to fuck her tight little ass while she is tightly bound, she has to comply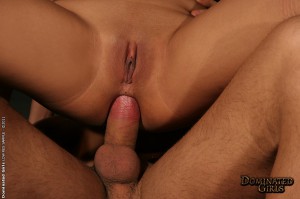 For more sexy bound slaves getting their asses pounded, check out Dominated Girls