posted by nimue on June 12th, 2012
Soemtimes there are things that a submissive is really, truly afraid of, but they know that those fears are holding them back.  Two common fears are electrics and needle play.  With the help of a good dominant, a slave can be lead to overcome her fears, and feel stronger and more able to submit to the challenges ahead of her in slavery.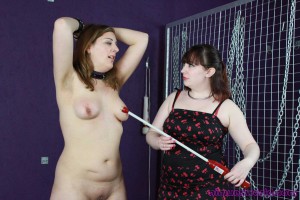 Janna had a strong fear of electro play and play piercing, but she knew that it was holding her back, she wanted to be able to give her submission fully, without panicking when her Owner wants to do those things to her.  First Janna must show her trust in her Mistress by standing and holding position while the cattle prod is run over her body, without the aid of any bondage.  Then she must submit to the violet wand over her skin, all the while knowing that she still has to face the needles.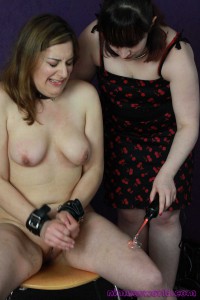 Finally she knows her Mistress is going to pierce her skin, and this is the thing that she fears the most, but she is reminded to breathe, and keep calm.  Her Owner wants her to achieve this and is going to help her to overcome her fear by talking her through it, one moment at a time.  Before Janna even realises it, her flesh is decorated with needles and she can bask in the feeling of accomplishment.