Suspension bondage can be all sorts of fun, but it doesn't have to be a boring, one position thing.  One of the most fun things about rope bondage is the ability to progress through different positions, this means that the submissive can be in the air much longer, as the pressure and stresses can be moved around, so one body part isn't under the strain the whole time.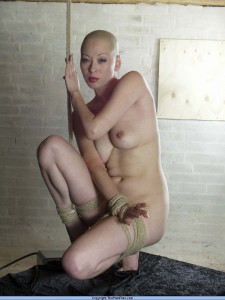 Fetish model Kumi Monster is well known for her suspension bondage work and in these photos, you can see why
Kumi twists around in the rope, creating different positions with her body, enjoying the sensation of being in the air and what the rope does to her.  All a ropeslut needs is the rope, no fancy SM equipment, no sex toys, just the feeling of the rope on their skin, the shapes the bonds pull her body into.  Kumi loves it as more and more rope is added, and removed, pulling her around, letting her feel the freedom of her bondage.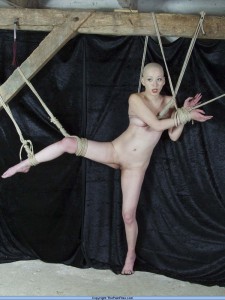 More slaves in rope bondage at ThePainFiles
I think most bondage enthusiasts out there are aware of the work of the gorgeous Kumi Monster. She is a stunning, supermodel type who has graced the covers of some big international magazines. But when she arrives at Shadowslaves, if she thinks her "name" or her reputation are going to mean that she gets it easy, or she's going to get special priviledges, then she's very much mistaken.

Magick ties her securely to a bench and then proceeds to cover her head to toe in hot wax.  You can see her displeasure at the pain being inflicted as she growls at him, and you can see the flashes of defiance in her eyes as the liquid wax burns her skin.  But you want to be a Shadowslave, Kumi?  Then you have to endure!