Switches get looked down a lot often in the BDSM community, but they bring an extra element of understanding to their play either as submissive or dominant.  Sexy brunette, Crystel Lei is an experience submissive, but she is able to bring that knowledge of being on the receiving end, to her play as a Mistress as well.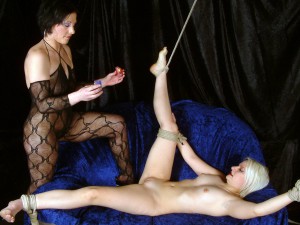 Little Miss Chaos is bound and left in the sadistic hands of Mistress Crystel and she knows that she's not in for an easy ride.  Our blonde slave is apprehensive as she see the candles being lit, but she knows she can't get away, she is here until Mistress is done with her.  She has to submit to whatever tortures are deemed appropriate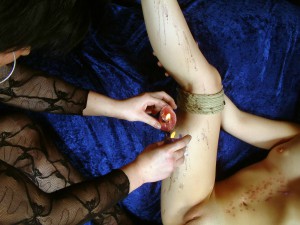 Crystel has been on the receiving end of hot wax many times before, and knows exactly where to direct the drips for maximum impact.  She drips the wax over Chaos' most sensitive parts, her inner thighs, her tiny boobs and eventually working down to her exposed, shaved pussy.  Chaos squirms and screams as she tries to process the pain, but she is in the hands of an expert now, a sadistic switch who is out for revenge!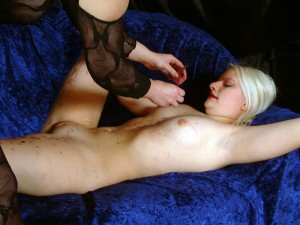 More slaves enduring bondage and torture at ThePainFiles
Bondage devices don't have to be intricate or extreme to work well.  Sometimes the simplest arrangements can hold  a slave exactly where you want them.  Brand new slave Holly discovers how restrictive wood and metal can be when she's put into this stocks device on her first time in the dungeon.
In the first position, her high heels holding her up, it is mainly her tight ass that is exposed, as well as her back.  An ideal position for a good spanking and caning, and some face slapping.  But just a few adjustments to the device and it is her breasts and pussy that are available for torture now.  Not wishing to miss a perfect opportunity, her sadistic Master tightly binds her breasts, tying her back to the post to further restric her movement.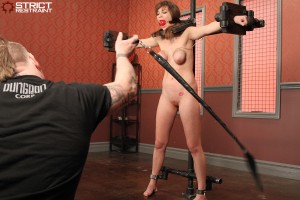 Her feet are shackeled wide apart, and her hands are held out at her sides, baring all her most sensitive parts to his whip.  The whip bites into her flesh, leaving welts on her thighs, her toned stomach, her bound tits and under her arms.  The huge gag in her mouth leaves her unable to scream out.
More gorgeous slaves in severe device bondage at Strict Restraints