A good bdsm scene is about the little things, not the big things.  It's about trust, and a connection between two people.  It can be about turning your submissive into a screaming sobbing mess, but it can also be about taking her to subspace in a different way.  It can be almost meditative and spiritual, leaving the slave in a place of quiet acceptance and submission, pushing her quietly and gently to her limits, with her barely being aware you are taking her there.
Lyarah is already in the headspace of being totally passive after having huge amounts of wax dripped all over her naked body, so now comes the time to push her.  With needles piercing her eyelids, effectively blindfolding her, her master goes to work with the rest of her face and body.  Needles with candles pierce her cheeks and her arms.  She accepts the pain, breathing through it, accepting her fate.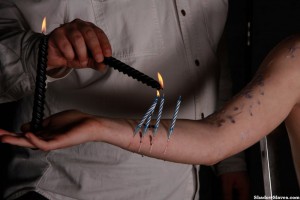 The finale is yet to come though, as each of the candles is lit in turn.  She must hold perfectly still, or risk burning herself in the candles flame.  But she does it, holding her mental bondage, no need for physical ties, without moving, knowing that she has pleased her Master by becoming his perfect, beautiful candle holder, for those few short moments before the candles burn down.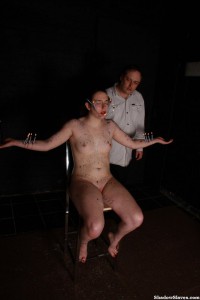 More girls working hard to please at Shadowslaves
One of the keys to a good bdsm scene is pacing, especially with beginners.  You dont want to rush in too hard too fast and have a scene only lasting 5 minutes, but you also dont want to take it so slowly that you both get bored!! You need to start out slowly, introducing a bit of pain at a time, allowing the endorphines to get released into the slave's blood stream – these are the hormones that will allow her to take more and more pain as the session goes on.
You can see in this clip from canadian slavegirl Lyarah's first ever movie shoot on ThePainfiles, that Magick starts out slowly, just teasing to start with.  He slowly starts to expose her body, while getting her to follow simple orders.  You can tell by the way her hips are swaying by the end of the clip that she's very much enjoying it and eager for more!!!